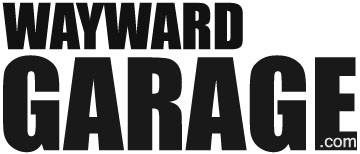 Building my Daily Driver
History of my 1957 Chevy 3100 Pickup Truck
---
Where it all began...
I once had a '73 Chevy truck, which for the complete pile it was, was a great truck. While on a walk with my folks up at their house in Mountain Ranch I found a Advanced Design GMC short-bed up near my parent's retirement property, but when I finally got in touch with the owner, it wasn't for sale. That's when I decided I needed a Chevy truck that was worth fixing up.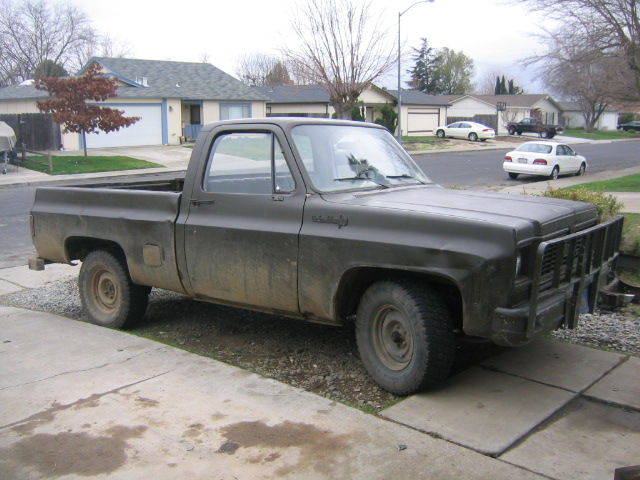 Click on the 'Big Ugly Truck' to read more about it!
---
10.30.05
I put the word out with some of my friends, looking for a '49-'53 Chevy or GMC. Barely a week later, a buddy told me one of his friends was thinking about selling his '57. I couldn't believe it, and the price was right!
On 10.30.05, I bought it for $500, delivered, with a no-op'd title, and completely disassembled!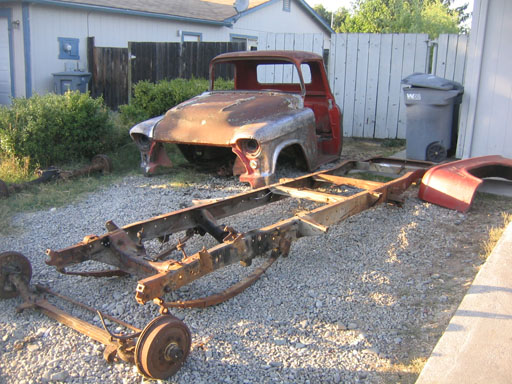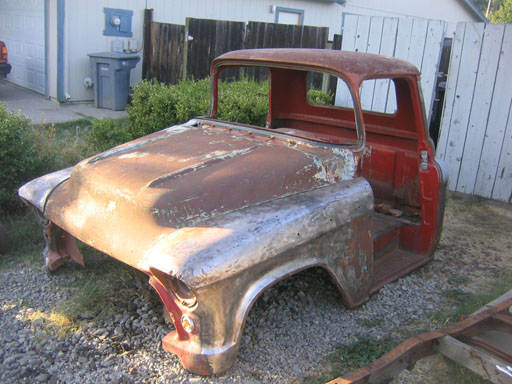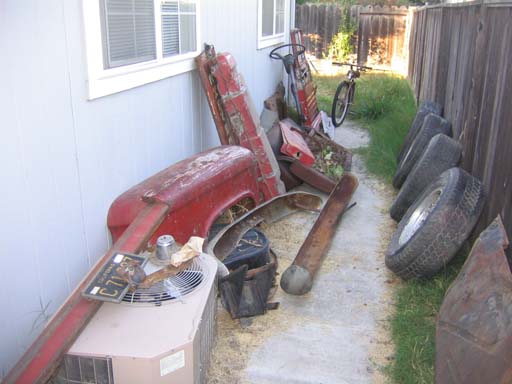 ---
1.21.06
In less than a month, I'd begun putting rusty crap back together.
---
6.21.06
Backyard shot!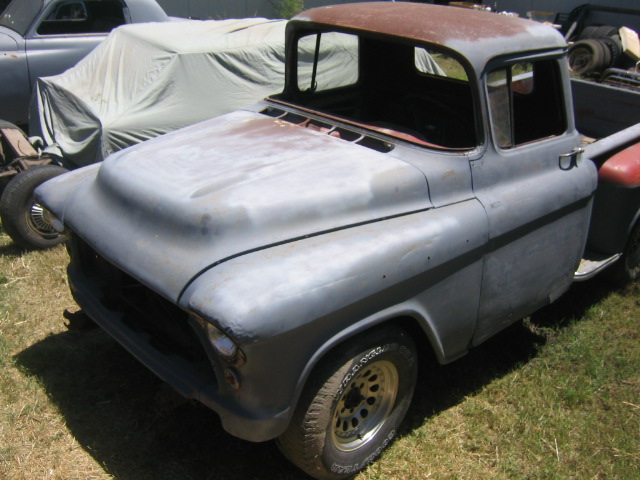 ---
1.03.07
Finally gettin' too it!!
Engine and tranny have been set into the truck!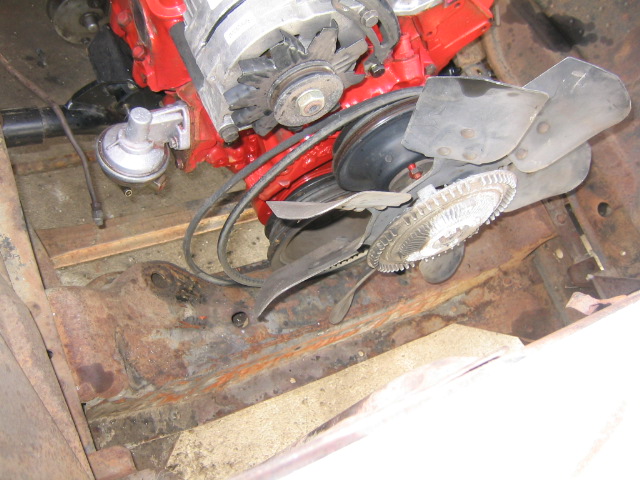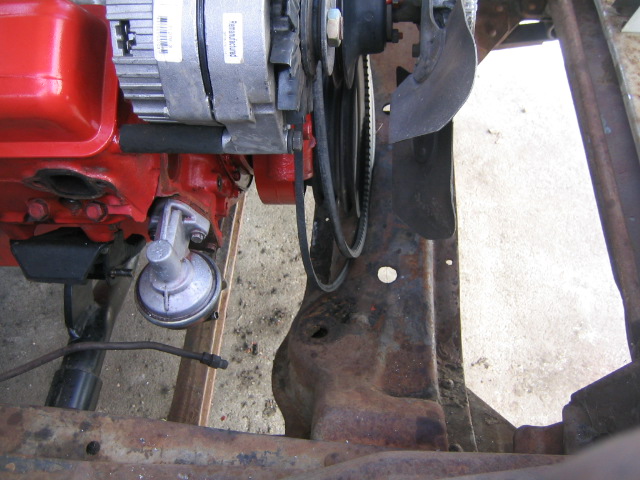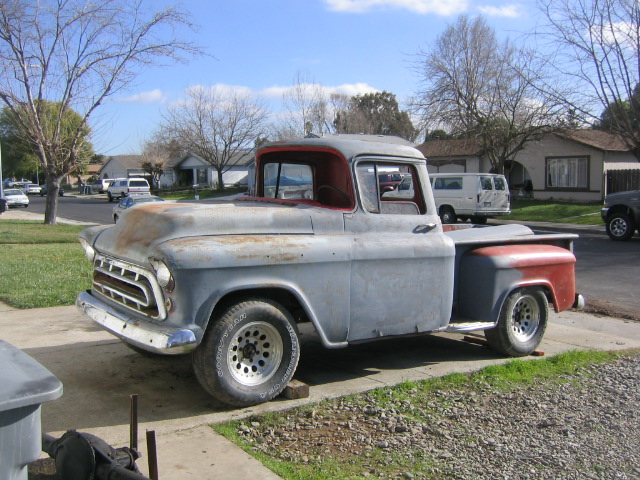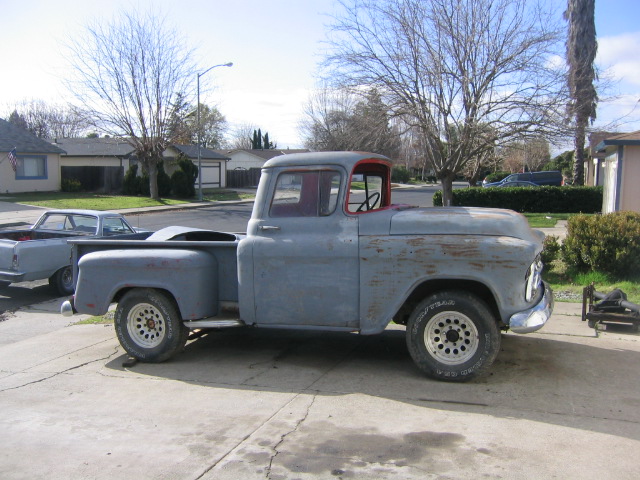 ---
2.07.07
It RUNS and DRIVES!!!
As always, testing the nerves of my neighbors with open exhaust!
(Not seen in these pictures, the throttle consisting of a piece of twine)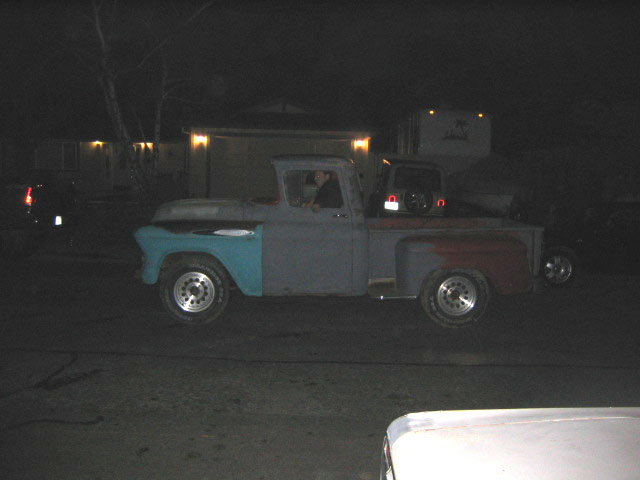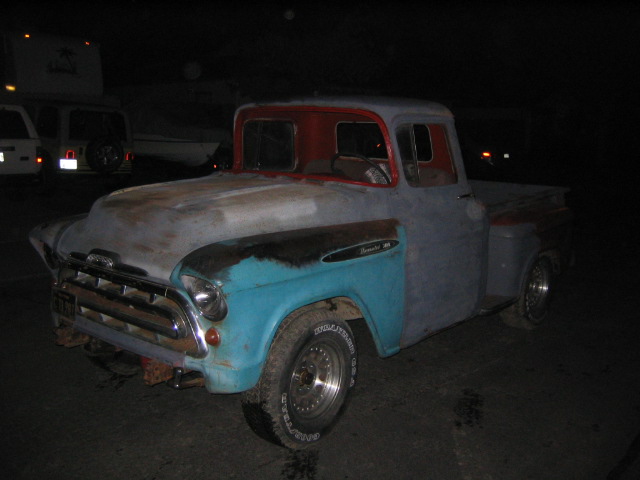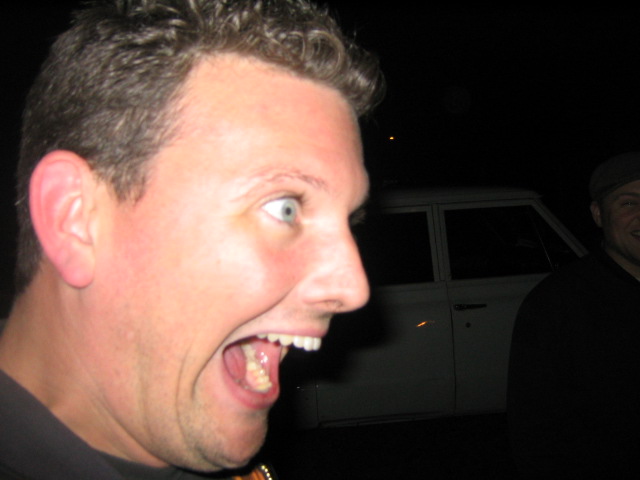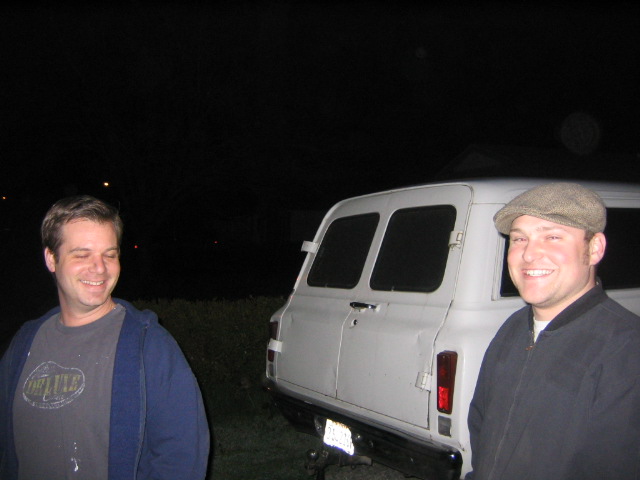 Good buddies Dan and Steve understanding what a goofball I am!
---
2.18.07
Welding in a new passenger side lower hinge mount.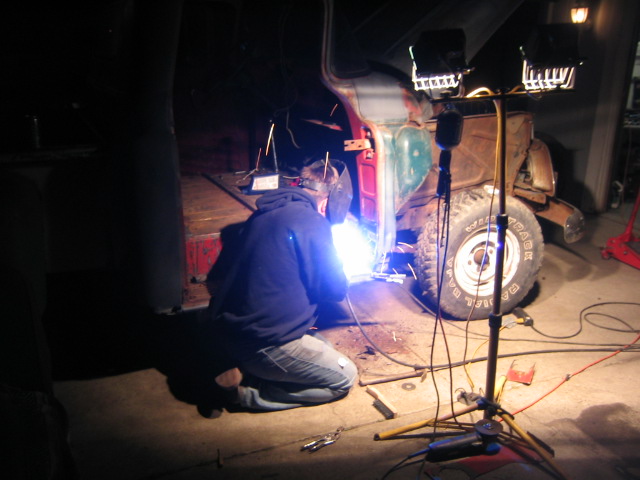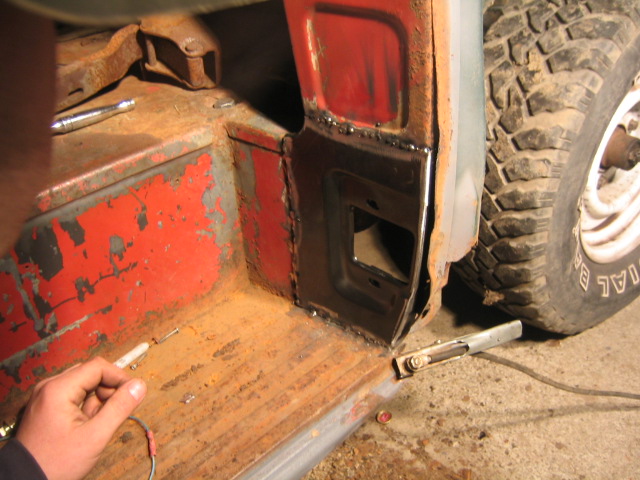 ---
4.12.07
At work.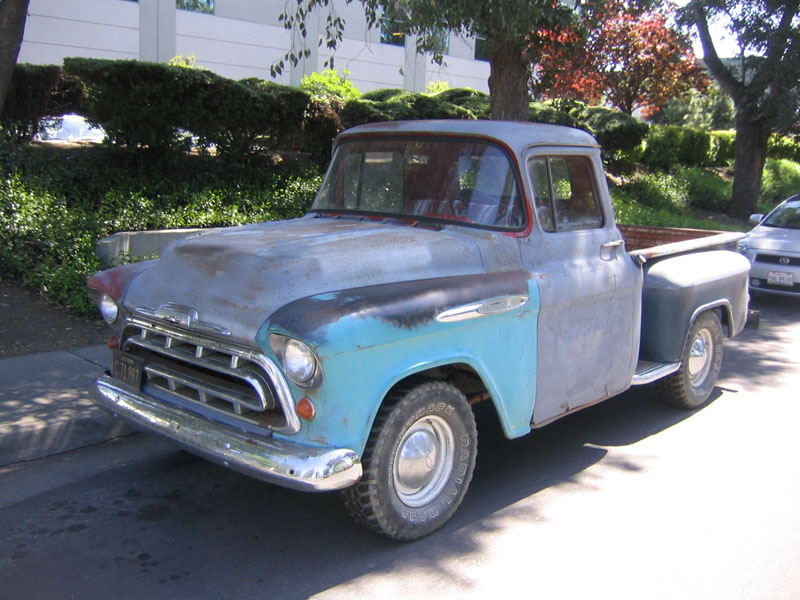 ---
5.04.07
Intake manifold issues. I had been running without a PCV valve, and the manifold gasket blew out.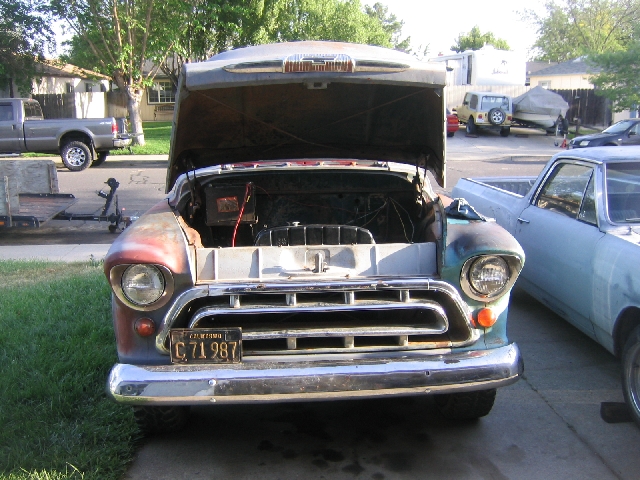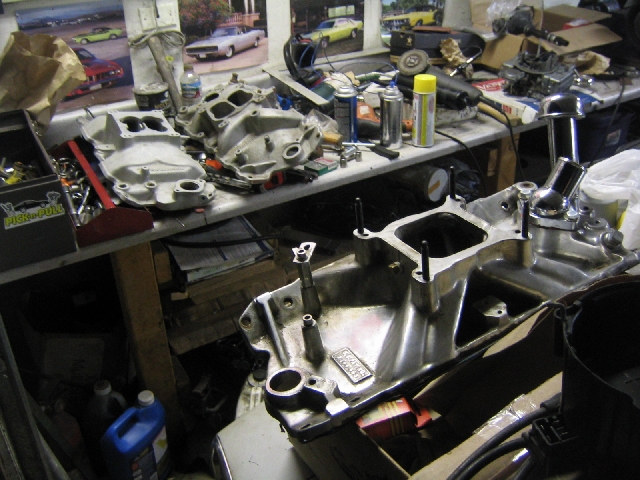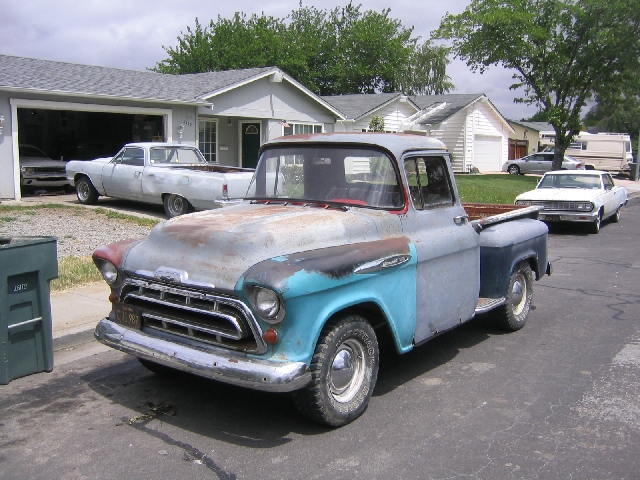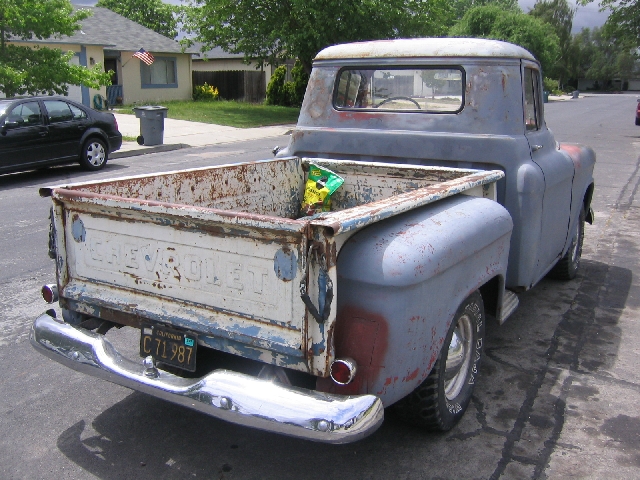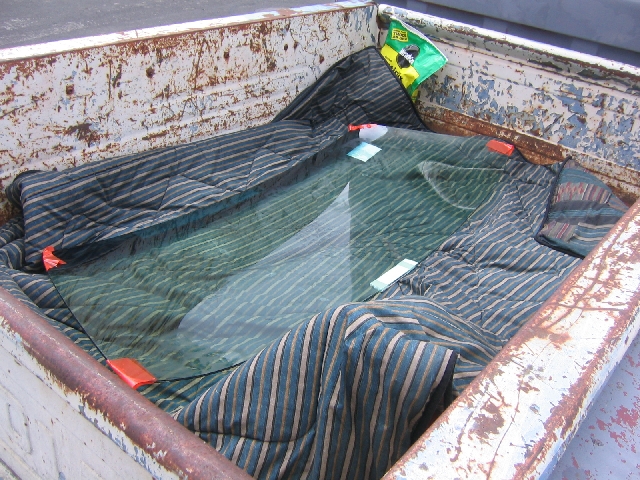 First payload! One new windshield for the Challenger!
---
5.06.07
Drove it out to the Turlock Swap Meet! First time I took it out so far from home, just testing the road manners. It did great!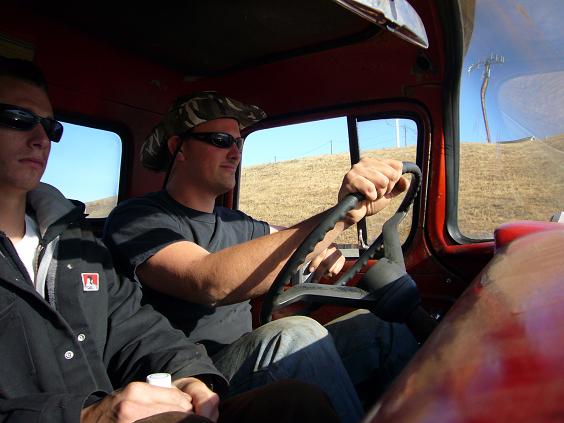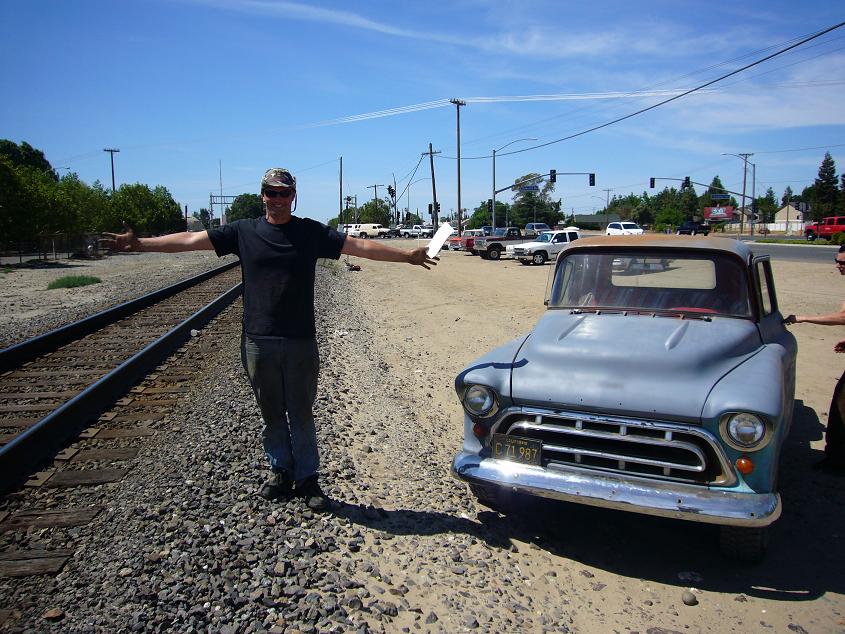 Not so great was the ticket I got for parking too close to the railroad tracks!
---
5.22.07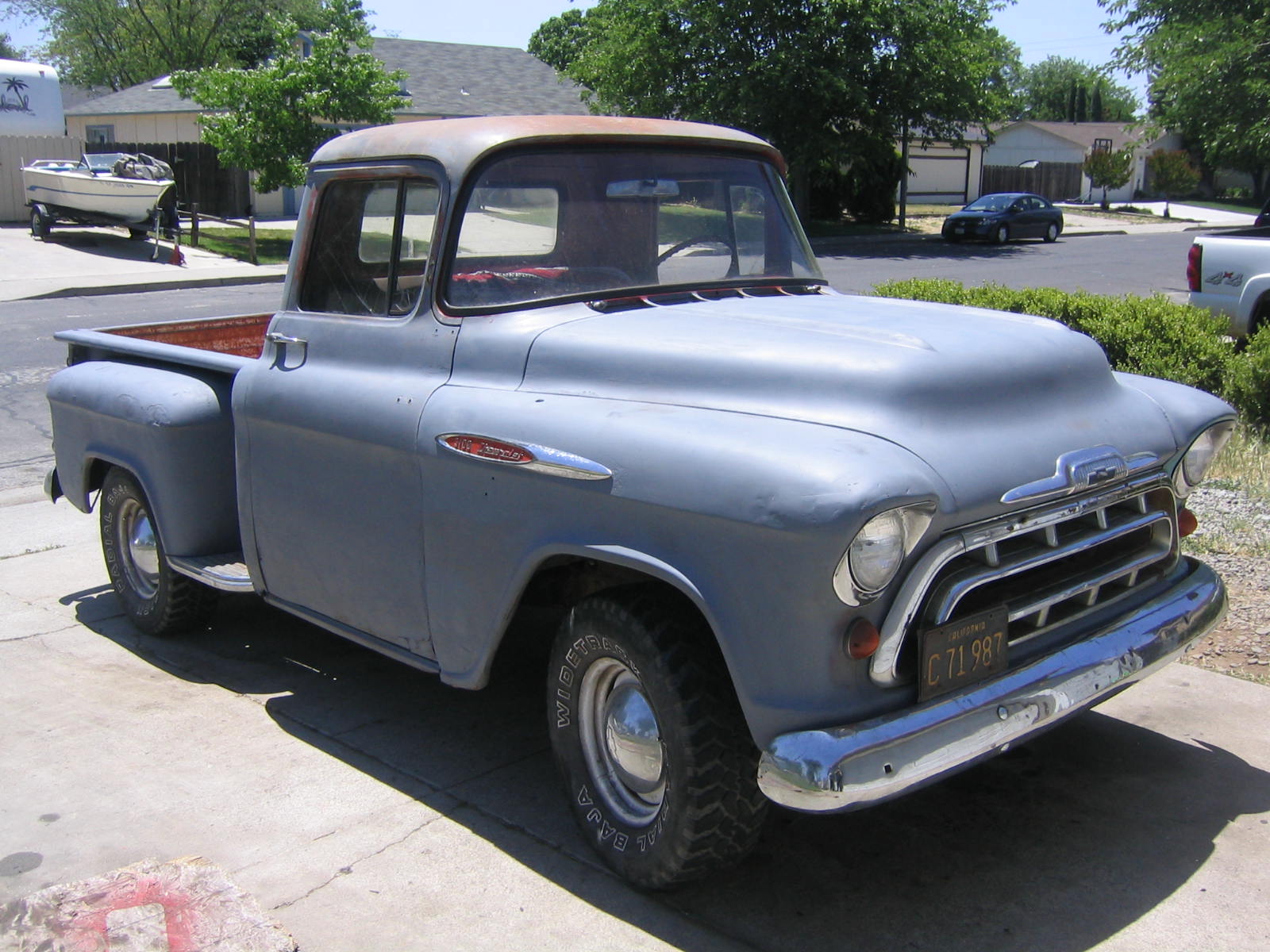 I'm finally driving it daily now!
---
Paso Robles Roadtrip!!
5.25.07
Our yearly pilgrimage to the mecca of the West Coast Kustoms Show!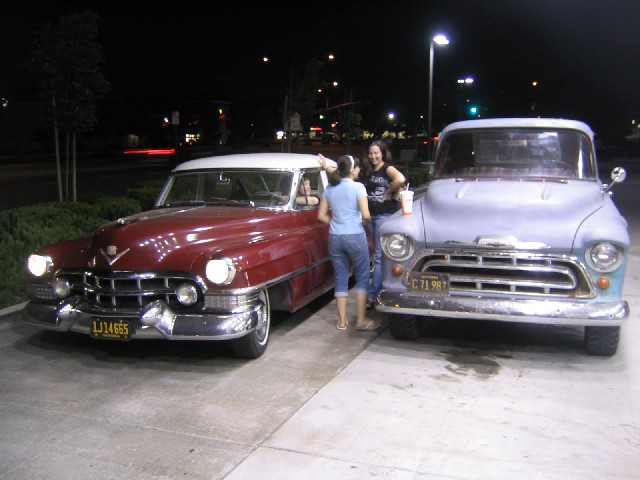 Click here for Tons of Great Pictures!
---
Fourth of July, 2007!
So it's almost fireworks time, I get in my truck to go over to a buddy's place to watch the festivities.
I'm tooling down freeway doing about 70, and I get a funny vibration, and then the whole truck ('57 Chevy) goes sideways, which then starts spinning. I end up sliding off the road into the ditch between Vasco and First St. When I left the road the truck started to feel like it was about to roll over, but it didn't, and I came to a stop a few feet from the fence. I thought I was gonna die!!
A few people stopped to see if I was okay, I was more freaked out than anything. A Highway Patrolman gave me a sobriety test, too.
Turns out most of the tread on the left rear came off the case of the tire in one long strip. I picked it up! Luckily, another of my buddies Dane happened to be going my way, so he stopped and helped me out. We got it dragged out, and I was able to creep it home.
I got pictures on my cell phone, if I can figure out a way to get them out, I'll post 'em.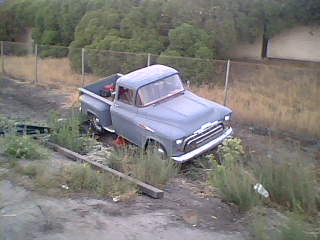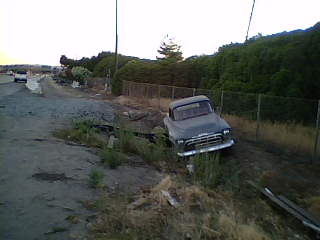 ---
8.11.07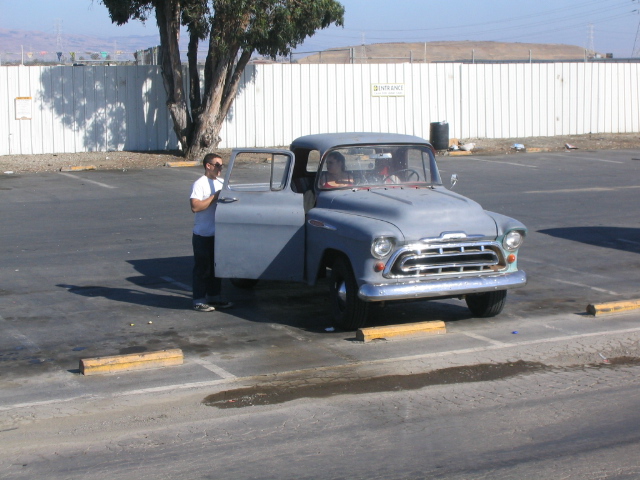 Junkyard trip!
---
8.20.07
Greg and I headed to the Moss Beach to pick up a pair of 15x8.5 slotted mags, and I had to stop a couple times along the way to snap a few pictures.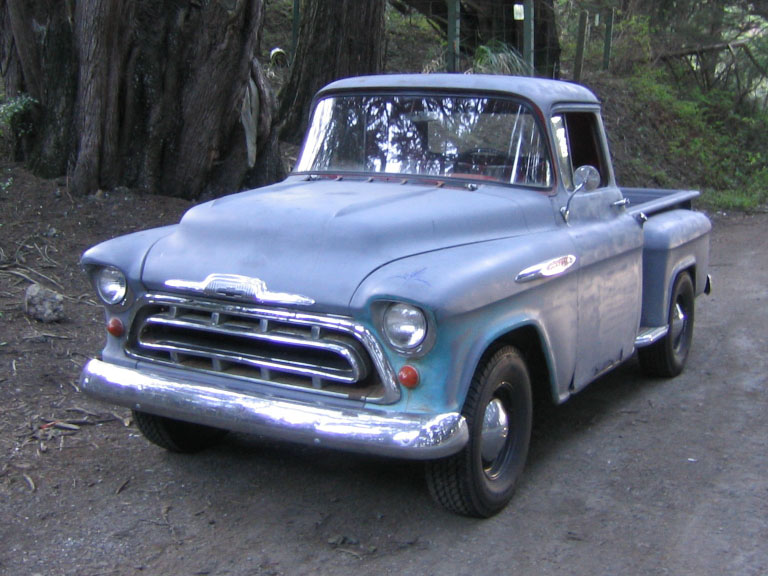 This first picture when I pulled over on Highway 92 (or was it 35?) is kind of freaky, because there appears to being someone or something watchin us from between the trees. Not really because I'm afraid of ghosts, but I just took a leak there!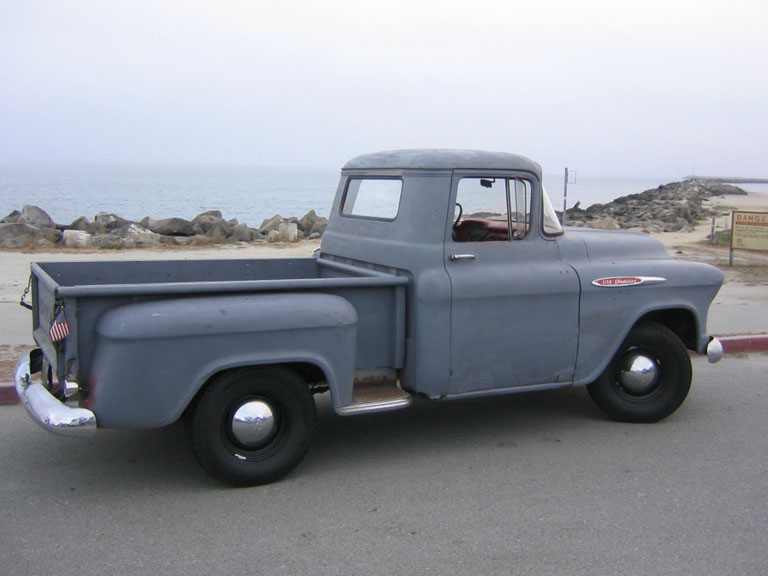 I had to get a picture of the truck in front of the ocean. We stopped at the RV park, at had a quick conservation with some campers who liked the old truck!
---
11.18.07
Drove it to the coast again, this time to pick up a 1931 Ford Model A Roadster cowl.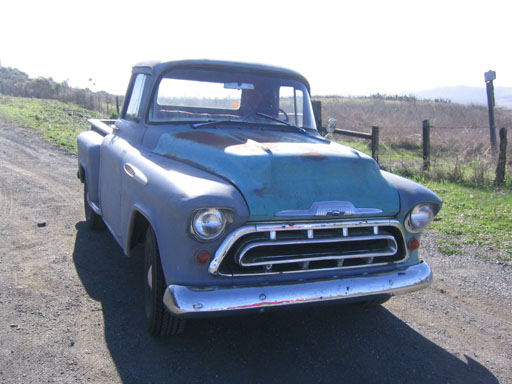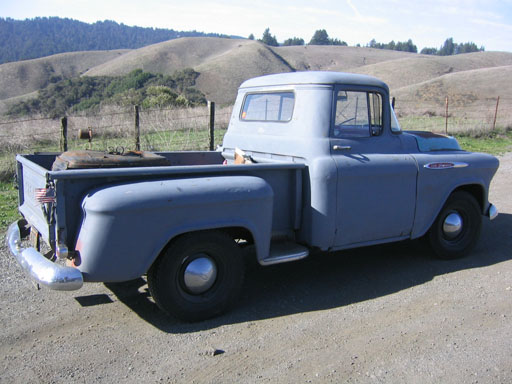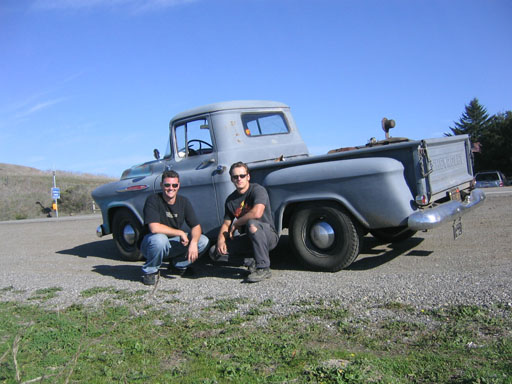 ---
2.7.08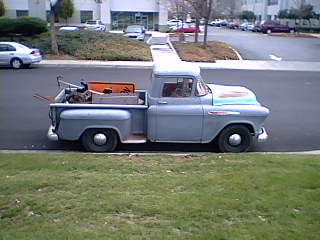 Just another scrap metal run! Had to grab a picture, I think I had a ton (literally!) in the back of the truck, and it was low-riding!
---
7.13.08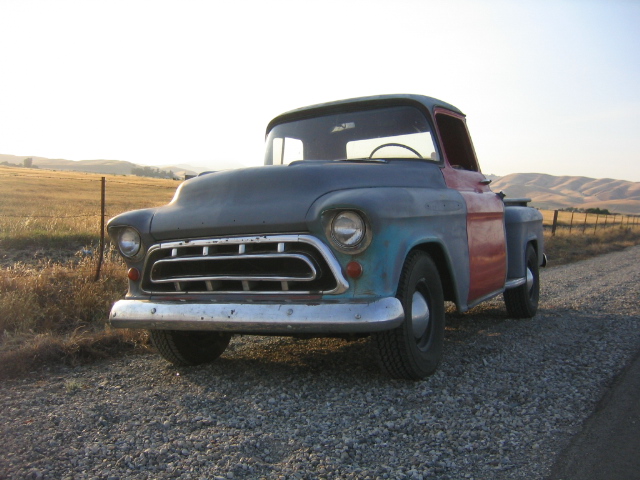 I've put 7000 miles on this heap since I got it running a while ago. It's my daily driver, and was knocking out 17 MPG @ 70 MPH on the freeway the last time I checked, with no vacuum advance or thermostat!
I've since put an another distributor in it, with a vacuum advance, so hopefully it's picked up a little bit!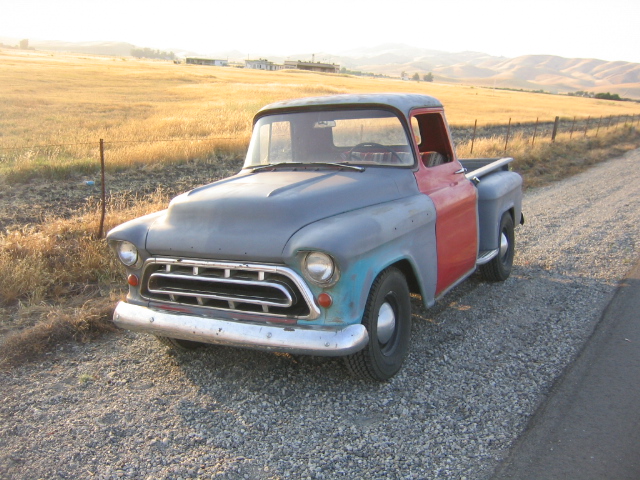 The red door is a nice one Jake gave me. He found it in a divorcee's side yard, it replaces a rusty bondo'd one with a flapping bottom.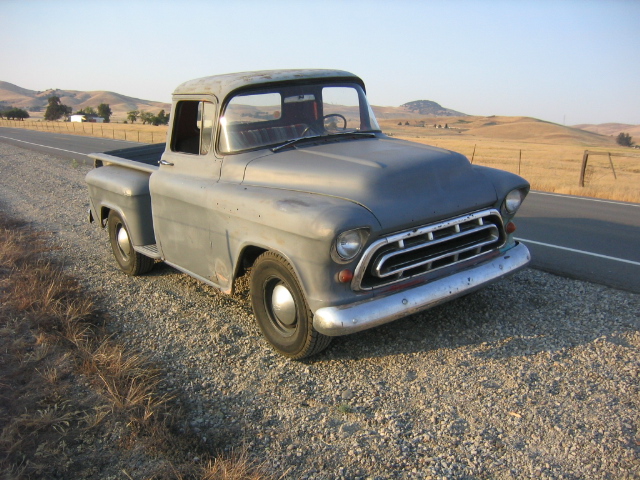 ---